Get Certified With Convenience & Comfort
July 10, 2021 – 100% Online Virtual CPO 
Certification
This Class is 100% VIRTUAL that includes Online Self-paced course 8 hours at your leisure and complete prior to the date of the Live Virtual Class Review and Online CPO Test day that you selected at registration. Live Virtual Class is conducted through Zoom. Test taken online and graded right then!! Any person from any state or country can take this version from the comfort of their own home!!
Reserve Your Space Now For Only $340 With The Box Below.  Checkout In Only One Minute.
The Lowest Price In The Country
Only $340
Your VIRTUAL CPO Class will be broken up into sections
CPO Certification In Some Simple Steps.
Step 1
The Pool Operator Primer (POP)A self guided 8 hour online course and completed on your schedule online at home.
Step 2
Live Virtual Online Review Class (LVC)Zoom virtual meeting 11 am – 4 pm (Eastern Time) with Lauren Broom (LIVE)
Step 3
Live Proctored CPO Exam Using Zoom 4:00 pm to 7:00 pm Eastern Time on same day of Zoom session
Must have laptop or computer with webcam and audio capabilities for test time, no tablets, cell phones or Chrome books, etc. Actual PC or apple computer required.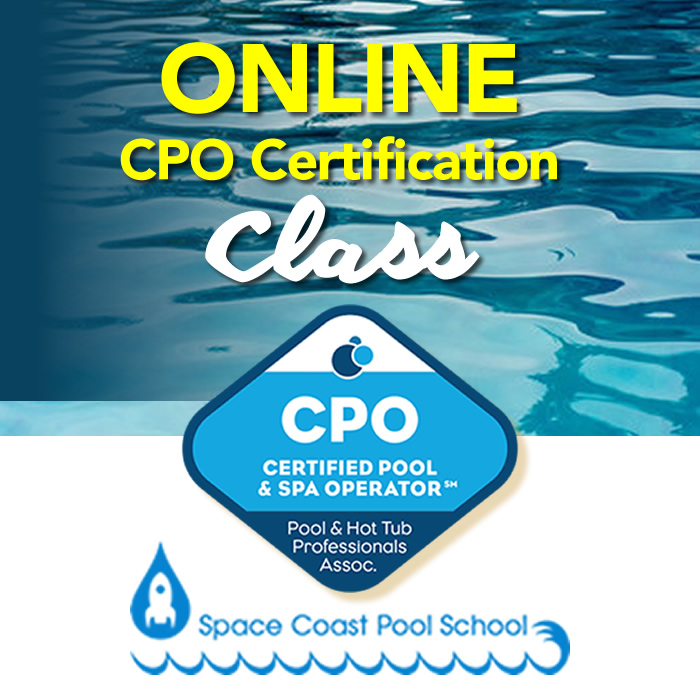 100% Online Certified Pool Operator (CPO) Course
Purchase ANY NUMBER of CPO Class Tickets To The Event Date That Fits Your Exact Need.  Just Scrool Down, Select Your Date and Check Out.  All Details Will Be Emailed Right To You For Total Convenience. 
Class Materials Provided
Certified Pool Operator Handbook will be mailed to the address that you register with prior to Live Virtual Class.
Handouts will be emailed to the email address on your registration along with the CPO Math Helper for review.
Check To See That Your State or Province Accepts Online CPO.
Our Up-To-Date List Of States Accepting Online Certification Is Below.
 U.S. States & Canadian Provinces Offering Virtual CPO Classes: Verify That Your State/ Province/ Country Recognizes Virtual Certification. 
The Virtual CPO class is available worldwide and though it is accepted in many areas, it is not approved for pool technician certification in all. To ensure the Virtual CPO Certification course meets the requirements of your jurisdiction, it is recommended that you contact your regulating authority prior to purchasing.
ALABAMA
NOT Approved in Baldwin County AL
ALASKA
Approved in City of Anchorage AK
ARIZONA
NOT Approved in Cochise County
NOT Approved in Pima County
ARKANSAS
CALIFORNIA
COLORADO
CONNECTICUT
NOT Approved in DELAWARE
District of Columbia
FLORIDA(Approved with 3rd party proctor provided by PHTA-part of fee)
GEORGIA(Approved until 10/31/2021)
HAWAII
NOT Approved in IDAHO
ILLINOIS
INDIANA
NOT Approved in IOWA
KANSAS
KENTUCKY
LOUISIANA
MAINE
MARYLAND
MASSACHUSETTS(Approved for 3 yr. cert.)
MICHIGAN
MINNESOTA
MISSISSIPPI
MISSOURI
NOT Approved in St. Charles County
NOT Approved in City of Kansas City
Approved in St. Louis County
NOT Approved in MONTANA
NOT Approved in NEBRASKA
NEVADA
Approved in Southern Nevada Health District
Approved in Washoe County
NEW JERSEY
NEW HAMPSHIRE
NEW MEXICO
Approved in City of Albuquerque NM
Approved in Bernalillo County
NEW YORK
Approved in Suffolk County NY
NORTH CAROLINA
NORTH DAKOTA
OHIO
OKLAHOMA
OREGON
PENNSYLVANIA
Approved in Allegheny County PA
RHODE ISLAND
SOUTH CAROLINA
SOUTH DAKOTA
TENNESSEE
TEXAS
UTAH
VIRGINIA
Approved in City of Alexandria VA
NOT Approved in Arlington County VA
Approved in Fairfax County VA
Approved in Loudoun County VA
VERMONT
WASHINGTON
WEST VIRGINIA
WISCONSIN
NOT Approved in WYOMING
INTERNATIONAL
Alberta, Canada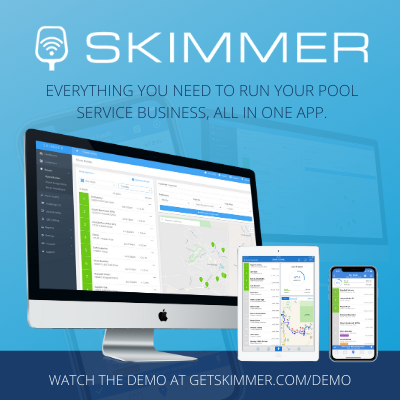 Hey Pool Pros! What are you using for route and customer magagement?
Skimmer is pool service software that makes it easier to run your pool business. Now, you can finally ditch that old paper-based system and run your business the modern way.
Customers
Track all your customers, each with the ability to have multiple locations and bodies of water. Always have up-to-date contact information, wherever you go.
Routes
Everything you need to customize and optimize routes, along with tracking all your service stop data. Easily move stops to a different day or from one tech to another.
Service Emails
Email your customers beautiful service reports automatically when you finish each route stop. Include photos along with chemical readings and dosages.