About Your Instructor
Lauren Broom
Hello, my name is Lauren Broom and I teach the Certified Pool Operator Course (CPO)®. I am a certified instructor through the Pool & Hot Tub Alliance®.
I am the owner of Space Coast Pool School, LLC for the past 10 years. I attended the University of Central Florida where I received my Bachelor's of Science in Biology. I am currently a Registered Sanitarian (certification in public health). I have 16 1/2 years experience in the inspection of commercial pools in Florida  as a commercial public pool inspector from the Florida Department of Health along with recreational waterborne disease outbreak investigations.
As a CPO Instructor I take part in other PHTA Committees and Councils.  I hold a spot on the PHTA CPO Advisory Board and a spot on the PHTA-2 Standard Writing Committee.
Recently in 2019, I became an adjunct instructor for Valencia College's Accelerated Skills Training Team to teach the Certified Pool Operator Course® CPO® as part of their new 10 week Certified Apartment Maintenance Technician certification in Osceola and Orange County campuses.
In April 2021, I will be the official CPO Instructor for the  new Pool & Spa Apprenticeship Program for the state of California.
In 2020, I became a regular monthly columnist for the online pool service publication Service Industry News. You can go there and read my column to enjoy more aquatic subjects.
In 2021, I will be the CPO Instructor for United Pool Association
(UPA)  and Independent Pool Spa Service Association (IPSSA) members.
Finally, 2021 I will become an authorized OSHA trainer for OSHA 10 & OSHA 30 courses. Intention is to be able to teach these courses for the aquatic industry to improve safety and health to its workers.
I am teaching the Certified Pool Operator® Course to educate the aquatic professional on importance of maintaining a swimming pool facility for the health and safety of their patrons.
Watch Our Video Below For A Quick Introduction.
TRUE CPO EXPERTISE
Meet Your Instructor, Lauren Broom.
Orenda Certified: Academy and Four Pillars; Certified Advanced Pool Inspector: Home Inspection University; NPC Certified Start-Up Technician: National Plasters Council; Completion of OSHA Standards for General Industry Training: USF OTI Education Center, Completed Taylor Technologies Water Chemistry and Testing Basics Course
Authorized OSHA Trainer for General Industry OSHA 10 & OSHA 30 courses
PHTA Certified Pool Inspector
Florida State Vendor on MyFloridaMarketPlace:  # F454488305 001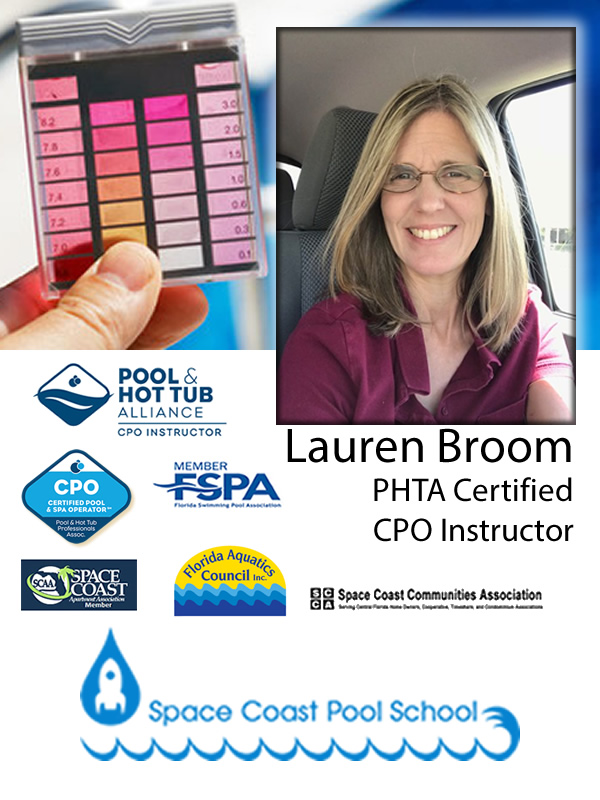 About Your Instructor
August Ursin
August Ursin is the founder and CEO of Ursin Aquatic Solutions, providing regulatory consulting services and education to Florida's public pool and spa industry. August is partnering with Space Coast Pool School to expand public pool education services in Florida. August is a Certified CPO instructor, teaching hundreds of Florida's routine public pool inspectors. For over two decades, August worked in the public pool program for the Florida Department of Health, advancing from a field inspector to manager of the statewide program. He is committed to strengthening relationships between regulators and the pool industry to build safe environments for those enjoying public pools. August Ursin's accumulated knowledge of Florida's public health and safety rules provides students an advantage when working with regulatory inspectors.
Watch Our Video Below For A Quick Introduction.
TRUE CPO EXPERTISE
Meet Your Instructor, August Ursin.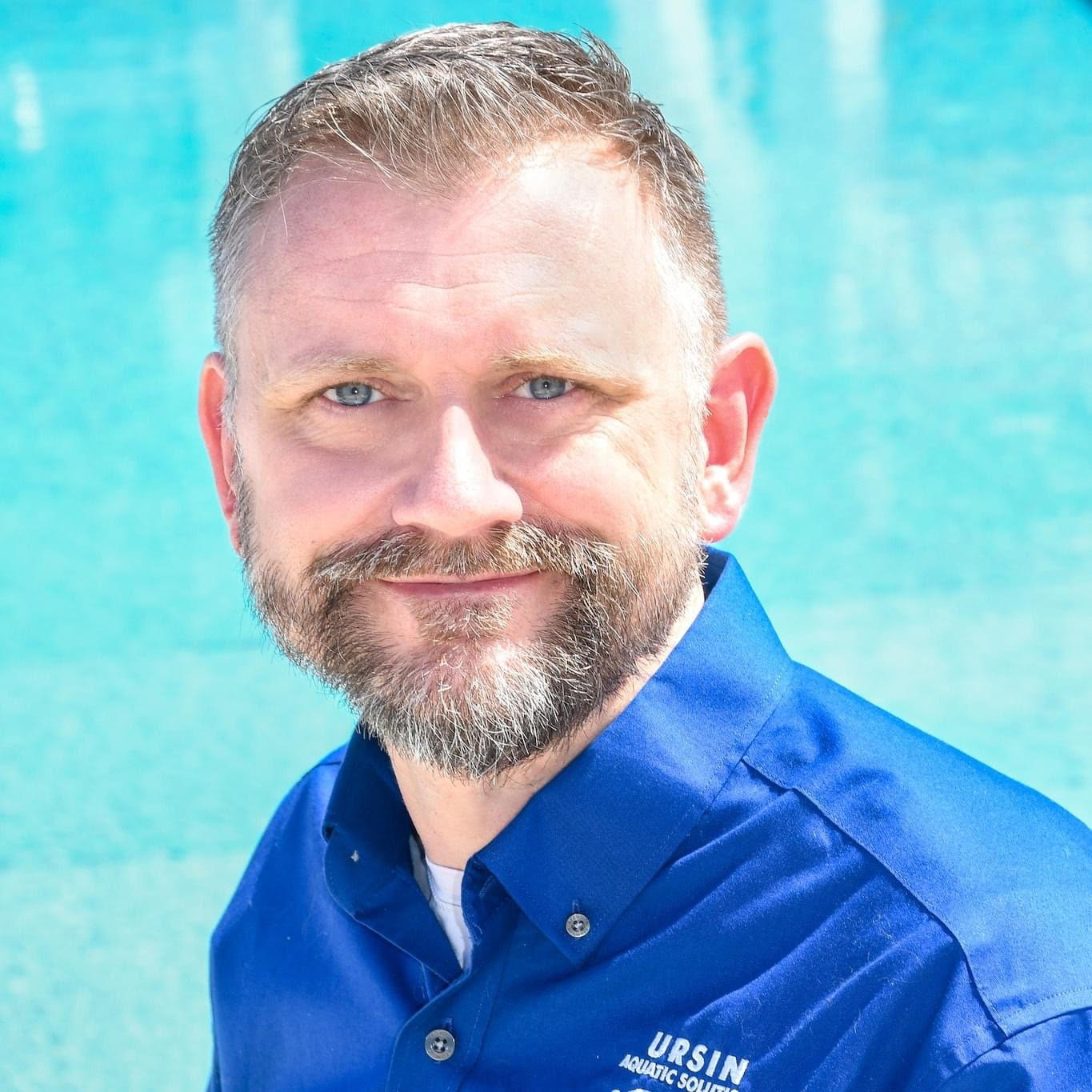 About Your Instructor
Dan Waxman
Dan Waxman has been involved in the aquatics industry for several years. He has served as a lifeguard, pool manager, CPO, and Aquatics Director. He hold credentials Certified Pool Operator, Certified Pool Operator Instructor, and Certified Maintenance Specialist through PHTA. He has additional training in various fields including tennis, fitness, and facilities management. He holds a BA in Environmental Studies from The University of North Carolina at Chapel Hill and Master of Public Administration from George Mason University. When not teaching about pools, you may find Dan playing pickleball, being involved with Science Olympiad, playing musical instruments, or teaching/tutoring on various other topics including mathematics, Hebrew, and science. 
Watch Our Video Below For A Quick Introduction.
TRUE CPO EXPERTISE
Meet Your Instructor, Dan Waxman.
About Your Instructor
Connie Jannarone
Connie Jannarone has worked in the aquatics industry most of her life.  Her family owns a swim club and a commercial pool management company in NJ.  From 2003-2018 she worked for her family business as a lifeguard, aquatic supervisor, and eventually operations manager.  In her tenure, she oversaw up to 200 aquatic facilities a year.  She first received her CPO certification in 2007 and she started teaching CPO classes in 2012.  Connie also taught American Red Cross lifeguard training and WSI classes.  In 2018 she moved to Texas where she worked for a residential pool builder as their staff accountant.  She just recently moved to the Space Coast and is excited to help teach more CPO students with Space Coast Pool School.  Connie also has a BS in Environmental Science with a concentration in Marine and Coastal Management from University of Maryland and a Mater of Professional Accounting from Colorado State University-Global Campus. 
Watch Our Video Below For A Quick Introduction.
TRUE CPO EXPERTISE
Meet Your Instructor, Connie Jannarone
About Your Instructor
Clemente Rivera
Clemente Rivera is an Aquatic Industry Professional.  He started as a Lifeguard and Swim Instructor, quickly rising to the ranks of Aquatics Management, which eventually led him to become an Aquatic Consultant.  He has run a Water Treatment Company in the Caribbean and has led teams in Facilities Management for Large Health Club companies; as an Associate at North American Filtration, he helped develop Link Automation's 300 & 500 series Water Quality Controllers, updating from the older 3000 series that were the workhorse in the MerMade filter lineup of pump room equipment.  He developed strategies for Inside Sales, while providing guidance to both Product Support and Field Services for Neptune Benson, now the Aquatics Division at Evoqua Water Technologies.  He is currently the Waterpark Maintenance Manager at the Dreamworks Waterpark @ American Dream, as well as offering Consulting Services throughout the New York Tri-state Area.
     Mr. Rivera has a unique understanding of the Industry, and has led a successful track record consulting on:
•
HVAC for Aquatic Facilities
•
Water Quality and Chemical Controls
•
Filtration and Circulation Systems
•
VGBA & ADA Requirements
•
Aquatic Facility Design Standards
Watch Our Video Below For A Quick Introduction.
TRUE CPO EXPERTISE
Meet Your Instructor, Clemente Rivera.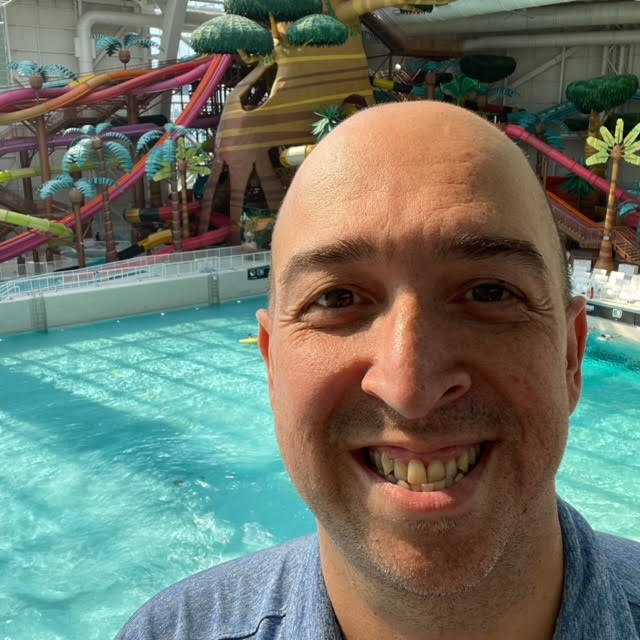 Check Out Our Podcast! "Let's Talk About Pools."
Listen Now!
And share with your pool industry friends.  Also, feel free to reach out and suggest topics and guests for future episodes.