Hello, my name is Lauren Broom and I teach the Certified Pool Operator Course (CPO)®. I am a certified instructor through the Pool & Hot Tub Alliance®.
I attended the University of Central Florida where I received my Bachelor's of Science in Biology. I am currently a Registered Sanitarian (certification in public health). I have 16 1/2 years experience in the inspection of commercial pools in Florida  as a commercial public pool inspector from the Florida Department of Health along with recreational waterborne disease outbreak investigations.
Recently in 2019, I became an adjunct instructor for Valencia College's Accelerated Skills Training Team to teach the Certified Pool Operator Course® CPO® as part of their new 10 week Certified Apartment Maintenance Technician certification in Osceola and Orange County campuses.
In 2020, I became a regular monthly columnist for the online pool service publication Service Industry News. You can go there and read my column to enjoy more aquatic subjects.
I am teaching the Certified Pool Operator® Course to educate the aquatic professional on importance of maintaining a swimming pool facility for the health and safety of their patrons.
Watch Our Video Below For A Quick Introduction.
TRUE CPO EXPERTISE
Meet Your Instructor, Lauren Broom.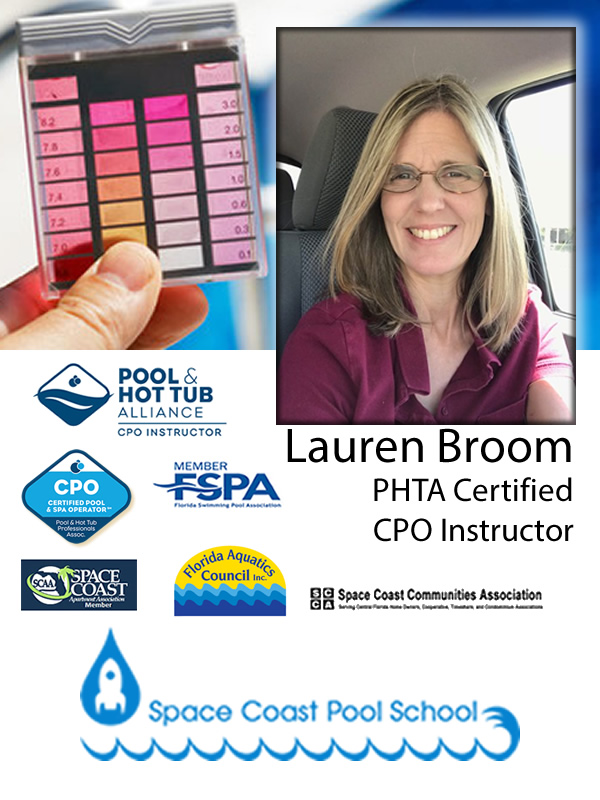 Check Out Our Podcast! "Let's Talk About Pools."
Listen Now!
And share with your pool industry friends.  Also, feel free to reach out and suggest topics and guests for future episodes.