Space Coast Pool School Refund & Cancellation Policies
Refund & Class Purchase Policies
Cancellation & Refund Policy
In Person 2 day CPO Courses: Cancellations received fourteen (14) calendar days prior to the class are refundable and are subject to a $35.00 registration service charge.
100% Online CPO training option & In Person Pool Operator Fusion:  cancellation is subject to a $150 registration service charge no matter when cancellation is received due to higher costs to the instructor for these course types for online course code assigned to student and book mailed due to COVID-19.
All Course Types:  Cancellations received less than fourteen (14) calendar days prior to the class are subject to the entire registration fee, if a student does not cancel and does not attend, the student is still responsible for the payment.  
Product Refunds: will be given on unopened returned merchandise within 30 days of purchase minus 15% restocking fee. Shipping fees are not refundable
CPO Credit: You may obtain a credit for your payment to attend a class on my schedule within (1) calendar year from your original scheduled class date by calling or emailing the office prior to your class. If there is no contact from the student prior to class, then no credit is available.
Registration: All students must be registered and paid prior to the class. Registration can be made by phone, mail or internet. Walk-ins are not accepted.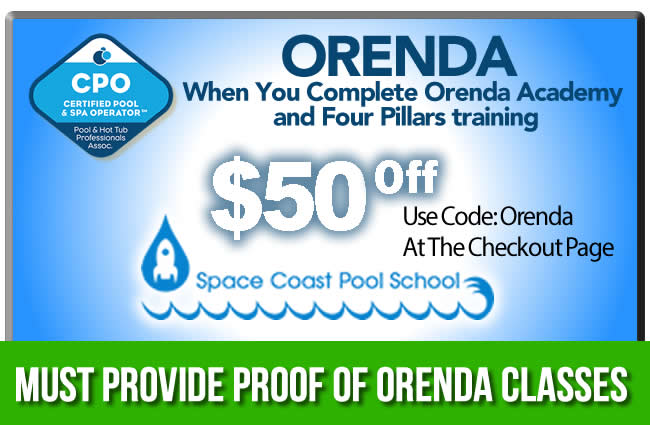 Thinking Of Getting Your CPO? Save $50 Now When You Take The Orenda Online Courses.
It is always more cost effective to prevent a problem than to fix it after it starts. The old adage goes something like "an ounce of prevention outweighs a pound of cure", right?
We at Orenda have always had a minimalist, proactive philosophy about water chemistry. Recently, however, we have refined our message and we feel pretty good about how to articulate it now. We call it the four pillars of proactive pool care.