Pool Learning Center
New Products & Info You Need To Know.
If you're A Pool Pro, Bookmark This Page!
Space Coast Pool School is proud to offer exciting new prodcuts and sponsorships from some of the industries top brand names.
Our Exclusive Sponsor and Learning Rescources Will Help You Stay Current.
Heater or Heat Pump? Which is the right choice for your particular pool? Learn about the Hayward heat pump now.
What pool pump is right for you? Learn about VS / variable speed pumps that save energy.
What is a Laminar and do you want one? Learn about this water feature now.
Total control of your pool is now available from your phone.  Check out the new Aqualink pool automation system.
Clever Pool Maintenance Tips 
Tennis balls to pick up extra oil?
CPO Made Simple… New Online Courses
If you are looking to get your CPO pool certification for the first time, or maybe you need to re-certify an entire crew of pool maintenance team members? Either way, Space Coast Pool School has a solution that will fit your specific needs.  
Choose from 100% online classes, Fusion classes that offer maximum flexibility or get trained by our experts in person during a 2 day, hands-on course.  With 5 star reviews and the lowest prices around, you can SAVE BIG of CPO certification.  
Check Out Our BRAND NEW Residential Pool Chemical Course - Only $75 with 100% virtual access.
A great way to learn about residential pool chemical treatments and mainteance, click here to learn more about our course.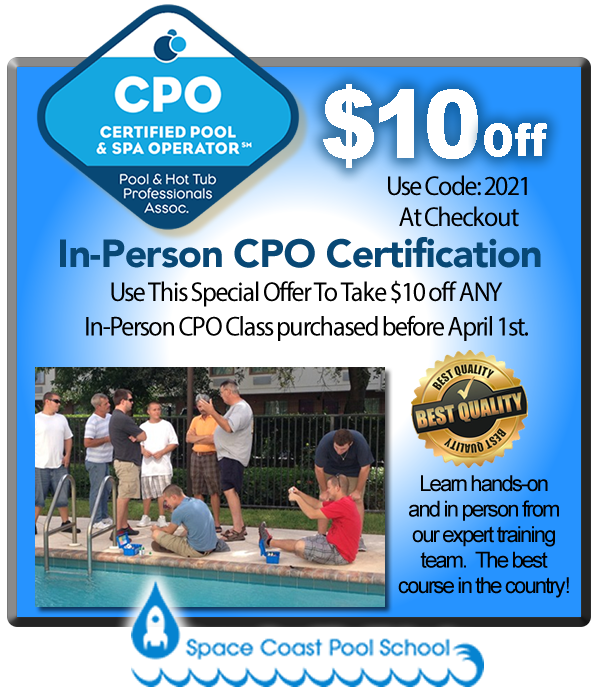 How do you choose the right pebble pool finish? Let's help you understand.
Dark Colored Pools… Here is what yuo need to know about these luxury finishes.
Pool Plaster 101: We help you understand the basics of plastering your pool.
What is a Laminar and do you want one? Learn about this water feature now.
Pricing: What are the variables in pool plaster / finishing costs. We explain the details.