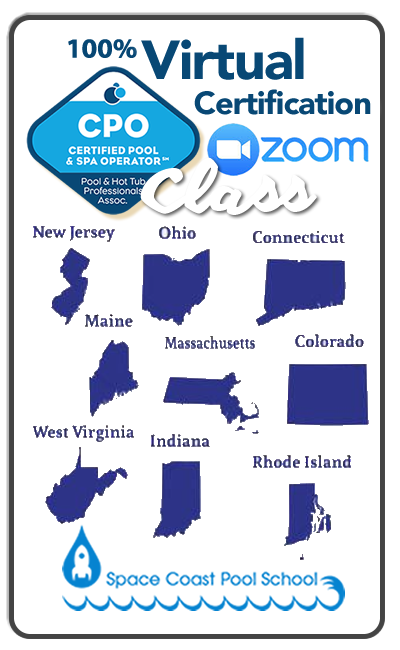 Use This Page If You Need Certification In: IN, OH, WV, NJ, CT, RI, MA, ME and CO
We Are The CPO
Certification Experts
No matter how you want to take your CPO Class, Spacecoast Pool School has a solution that fits your schedule and state. Choose either a 2 Day Live Zoom session with instructor or our Fusion CPO Program with blended virtual and in-person learning and you can get your CPO Certification from true experts in the field. All you need to do is find a date, take 60 seconds to enroll and you're entered in either class below.
This is a 2 day course that will help prepare you with the knowledge and skills to operate your pool safely and in a health manner for your patrons.
You will gain knowledge on pool water chemistry, water filtration, recreational water illnesses, spa maintenance, chemical dosing, break point chlorination and methods to keep employees and patrons of swimming pools safe and healthy.
Must attend entire sessions and pass open book online exam to be certified.
Class is from 11 AM to 7 PM Eastern Time on both days. Online Test Proctored on second day online from 4 pm to 7 pm Eastern time
Students need to have a calculator, highlighter, book, paper and photo ID for online class.
Tuition includes 2021 CPO® Handbook and all supplemental class material.
COST : $350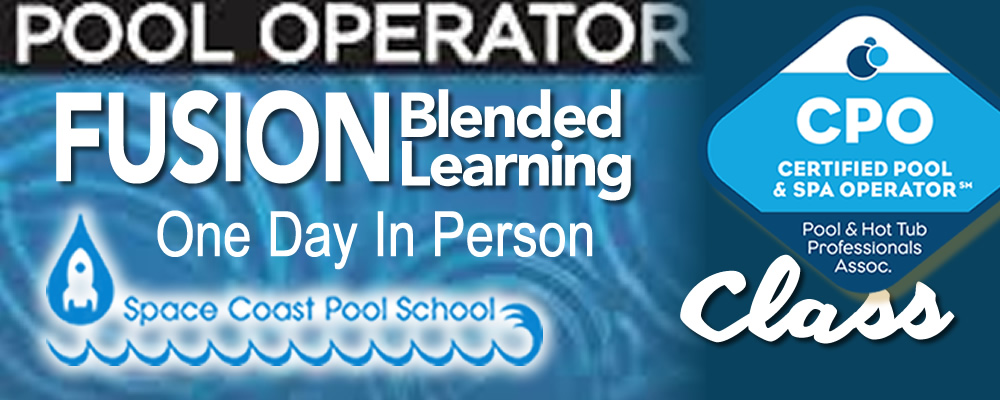 With this course option you take an 8 hour online course at your own pace and only have to show up to the second day of class.
You must complete the Online Pool Operator Primer® before coming to class and bring certificate of completion on the second day of class.

You must register and make payment for Pool Operator Fusion® option.

You take the written exam in class on the second day.

Access code(s) are emailed directly to you within 24 hours of registration and full payment. CPO® 2020 handbook will be mailed directly to you.

Students attends a full second day of the two day class they select from our schedule. It includes your in-person exam.
This Course Is SPECIFICALLY FOR THE FOLLOWING STATES: Verify That Your State Is Included Below Before Signing Up.
The Virtual CPO class is available worldwide and though it is accepted in many areas, it is not approved for pool technician certification in all. To ensure the Virtual CPO Certification course meets the requirements of your jurisdiction, please ensure that you are from one of these states: IN, OH, WV, NJ, CT, RI, MA, ME and CO
Your Instructor:
Connie Jannarone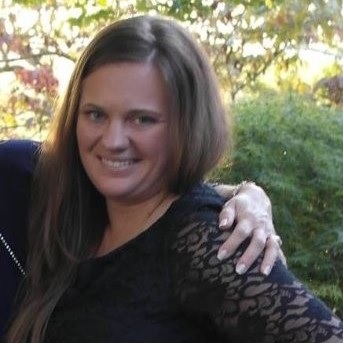 About Your Instructor, Connie
Connie Jannarone has worked in the aquatics industry most of her life. Her family owns a swim club and a commercial pool management company in NJ. From 2003-2018 she worked for her family business as a lifeguard, aquatic supervisor, and eventually operations manager. In her tenure, she oversaw up to 200 aquatic facilities a year. She first received her CPO certification in 2007 and she started teaching CPO classes in 2012. Connie also taught American Red Cross lifeguard training and WSI classes. In 2018 she moved to Texas where she worked for a residential pool builder as their staff accountant. She just recently moved to the Space Coast and is excited to help teach more CPO students with Space Coast Pool School. Connie also has a BS in Environmental Science with a concentration in Marine and Coastal Management from University of Maryland and a Mater of Professional Accounting from Colorado State University-Global Campus.