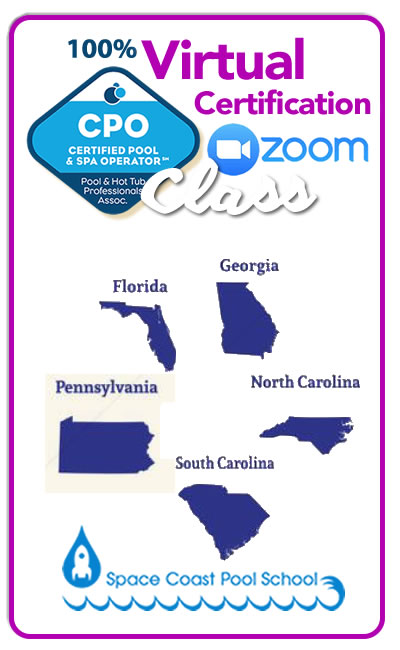 Use This Page If You Need Certification In: FL GA, SC, NC and PA
We Are The CPO
Certification Experts
No matter how you want to take your CPO Class, Spacecoast Pool School has a solution that fits your schedule and state. Choose either a 2 Day Live Zoom session with instructor or our Fusion CPO Program with blended virtual and in-person learning and you can get your CPO Certification from true experts in the field. All you need to do is find a date, take 60 seconds to enroll and you're entered in either class below.
This is a 2 day course that will help prepare you with the knowledge and skills to operate your pool safely and in a health manner for your patrons.
You will gain knowledge on pool water chemistry, water filtration, recreational water illnesses, spa maintenance, chemical dosing, break point chlorination and methods to keep employees and patrons of swimming pools safe and healthy.
Must attend entire sessions and pass open book online exam to be certified.
Class is from 11 AM to 7 PM Eastern Time on both days. Online Test Proctored on second day online from 4 pm to 7 pm Eastern time
Students need to have a calculator, highlighter, book, paper and photo ID for online class.
Tuition includes 2021 CPO® Handbook and all supplemental class material.
COST : $350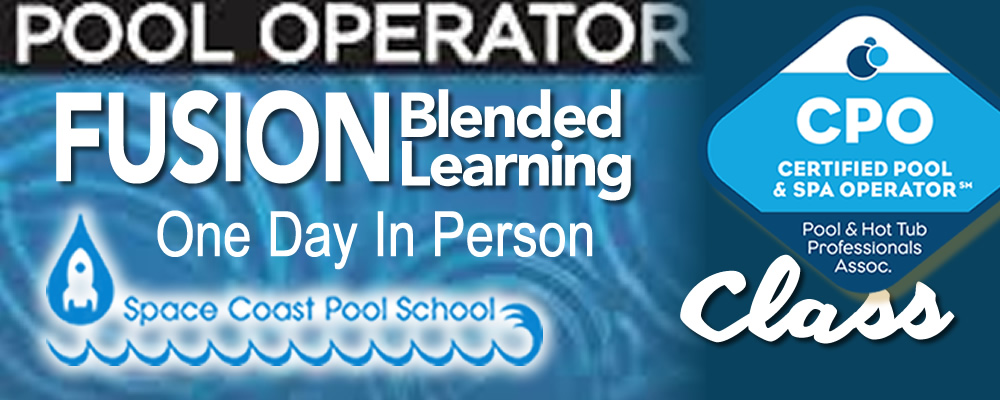 With this course option you take an 8 hour online course at your own pace and only have to show up to the second day of class.
You must complete the Online Pool Operator Primer® before coming to class and bring certificate of completion on the second day of class.

You must register and make payment for Pool Operator Fusion® option.

You take the written exam in class on the second day.

Access code(s) are emailed directly to you within 24 hours of registration and full payment. CPO® 2020 handbook will be mailed directly to you.

Students attends a full second day of the two day class they select from our schedule. It includes your in-person exam.
This Course Is SPECIFICALLY FOR THE FOLLOWING STATES: Verify That Your State Is Included Below Before Signing Up.
The Virtual CPO class is available worldwide and though it is accepted in many areas, it is not approved for pool technician certification in all. To ensure the Virtual CPO Certification course meets the requirements of your jurisdiction, please ensure that you are from one of these states: Florida, Georgia, South Carolina, North Carolina, Pennsylvania
Your Instructor: Lauren Broom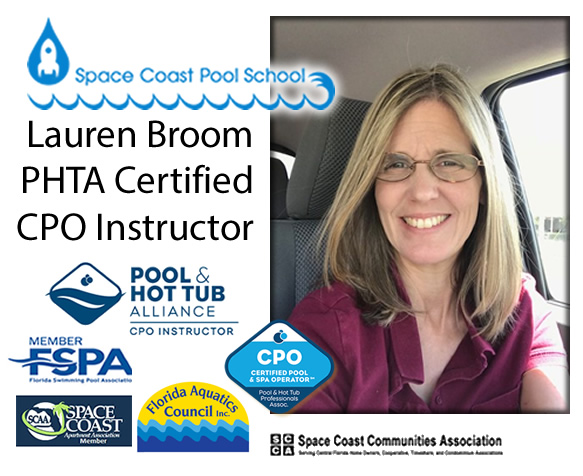 Abou Your Instructor Lauren Broom
Hello, my name is Lauren Broom and I teach the Certified Pool Operator Course (CPO)®. I am a certified instructor through the Pool & Hot Tub Alliance®.
I am the owner of Space Coast Pool School, LLC for the past 10 years. I attended the University of Central Florida where I received my Bachelor's of Science in Biology. I am currently a Registered Sanitarian (certification in public health). I have 16 1/2 years experience in the inspection of commercial pools in Florida as a commercial public pool inspector from the Florida Department of Health along with recreational waterborne disease outbreak investigations.
As a CPO Instructor I take part in other PHTA Committees and Councils. I hold a spot on the PHTA CPO Advisory Board and a spot on the PHTA-2 Standard Writing Committee.
Recently in 2019, I became an adjunct instructor for Valencia College's Accelerated Skills Training Team to teach the Certified Pool Operator Course® CPO® as part of their new 10 week Certified Apartment Maintenance Technician certification in Osceola and Orange County campuses.
In April 2021, I will be the official CPO Instructor for the new Pool & Spa Apprenticeship Program for the state of California.
In 2020, I became a regular monthly columnist for the online pool service publication Service Industry News. You can go there and read my column to enjoy more aquatic subjects.
In 2021, I will be the CPO Instructor for United Pool Association
(UPA) and Independent Pool Spa Service Association (IPSSA) members.
Finally, 2021 I will become an authorized OSHA trainer for OSHA 10 & OSHA 30 courses. Intention is to be able to teach these courses for the aquatic industry to improve safety and health to its workers.
I am teaching the Certified Pool Operator® Course to educate the aquatic professional on importance of maintaining a swimming pool facility for the health and safety of their patrons.