Useful Pool Tools for Your Trade-Multi Tork Pool Tool
Guest Blog by Tal Milican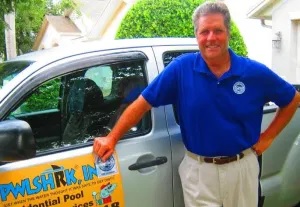 Tal Millican, CPO 33-303047
Pwlshrk Pool Services
Multi-Tork Pool Tools
Tampa FL
https://youtube.com/watch?v=DKIgcD9WQ0Q
About the Author:
My pool story is not unlike that of many others who for one reason or another, got pulled into the water and never came out. My wife and I built our first home here in Tampa in 1992 with our first pool. I re-discovered the serenity of sparkling, clear water that I had not experienced since teaching swimming lessons as a Red Cross instructor in my teens.
To reduce my time away from home as a flight attendant, I went to work part-time for a Tampa pool service in 1993. In 1994 I started Pwlshrk Pool Service: "Just When the Water Thought it Was Safe to Get Dirty" It didn't take long at all to learn that pool equipment be treated respectfully or my hands would pay.
I retired from the airline industry in 1999 and became a full-time pool service owner.
It took 13 years to figure a better way and Multi-Tork Pool Tools was born in 2006. I introduced my first 3 sockets at the 2007 Florida Spa and Pool Association Show in Orlando. They were very well accepted. No one had seized on the idea of making sockets for clamp knobs in quite the same way. My thirteen years of blood, sweat, toil was validated.
Of course, I had tremendous help and mentoring along the way from veteran tool inventors, distributors, manufacturer's reps and fellow pool techs. It's now important that I pay forward to anyone who approaches me seeking advice on their own idea.
This my MT-100H. One end is a 3/4″ hex socket for any 3/4″ hex nut, but pool industry-specific to Hayward's new Swim-Clear and Pro-Grid series filters. The other slot end handles wing nuts, such as Harmsco and several others; also T-handle clamp bands. This socket is designed for use in the industrial filter sector as well, hence, the 'H' for Hybrid.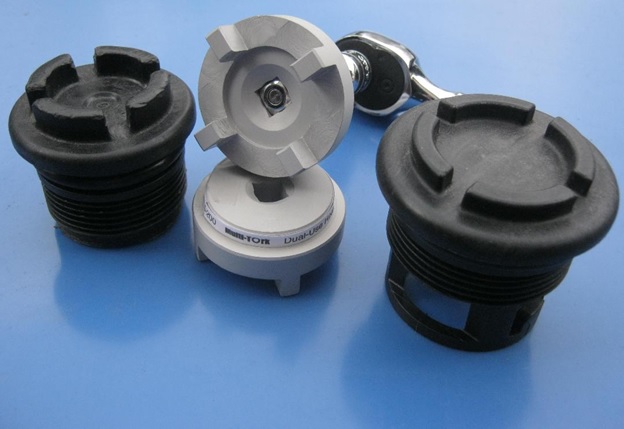 This is our anodized aluminim Heater PLug Socket model HPS-200. It fits both the Sta-Rite Maxi-Therm and Max-E-Temp Thermo-Regulator Plug and Raypak's Unitherm Governor Plug.